Curate your own sets of channels and apply them to every device.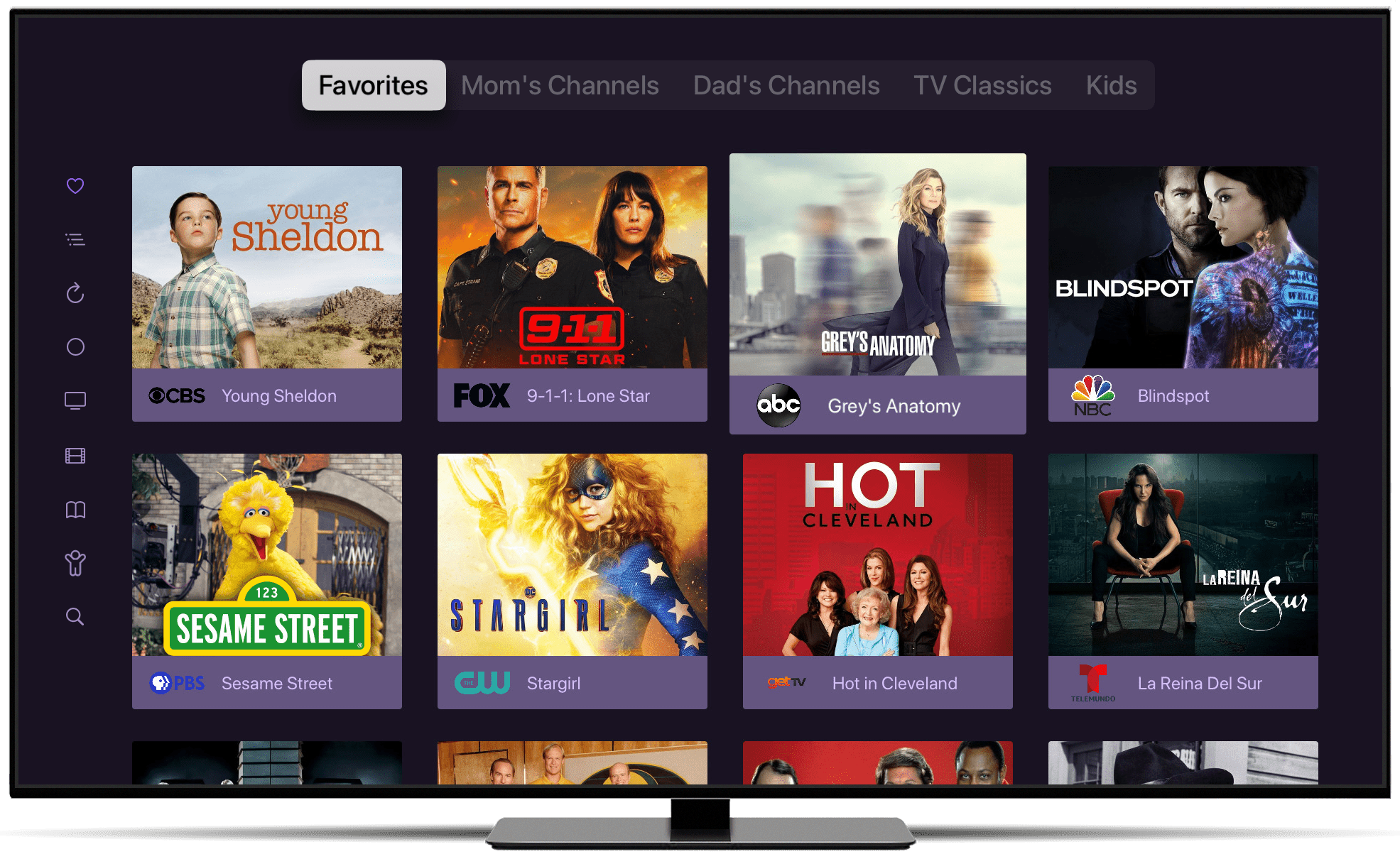 Tips & Tricks Post & Companion Video
Learn more about Channels Collections with our Tips & Tricks post or watch the companion video below.
Channel Collections
Channel Collections allow you to create your own groups of channels any way you want and apply them to all of your devices. Create a group just for Mom's channels, or the kids, or just for channels that air classic TV. Group them any way you want. Keep them in sync on every device.
With Channel Collections, you can surface some of those great channels that get lost inside your lineup while making sure they show up on every device you use with Channels.
How Does It Work?
Once created, Channel Collections are applied to your devices via Server Side Settings. You can apply them to all of your devices or just specific ones.
Your channel collections will replace the old filters in On Now and Guide. All Channels and Favorites will still be available as options. You can hide these via settings to show only your channel collections.
Get Started
Start by making your Channel Collections via your Channels DVR Server web admin under the Live TV tab. Take some time and create collections on all the topics that you want.
Once you have some collections created, it's time to apply them to your devices. In the Clients tab of your web admin, find the Server Side Only section of the settings. Add the Channels Collections setting. Once the setting has been added, you can start picking collections to add.
Protip: The order your collections show up in Channels is determined by the order that you add them in the setting.
The collections you add to the global server side setting will apply to all of your devices. If you want a device to have its own set of collections, configure the setting for that device.
Note: Learn more about Server Side Settings and how to configure devices uniquely.
Protip: Turn off the built in Favorites and HD Channels collections when using your own, at Settings > Live TV.
Automatic Channels
Channel Collections allow you to set rules that will find shows and movies that match your criteria, and add them to your Channel Collection.
This gives you the ability to have dynamic collections that are more like the default News, Movies, Sports, and Kids collections.
All of the dynamically added channels will be added below the channels you have manually chosen for your collection.
Rules
| Rule | Description |
| --- | --- |
| Genres | Any currently airing programs matching these genres will be pulled into your collection |
| Excluded Sources | All currently airing programs from the sources you choose will be ignored and not pulled into your collection. |
| Content Type | Choose if you want to pull in just TV Shows, Movies, or Sports. |
| Tags | Choose to filter currently airing programs that contain these tags: Live, New, HD, Closed Captions |
| Keywords | Choose to filter currently airing programs that contain your included terms. |
Protips
All Channels and Favorites remain available when using Channel Collections. If you would like to hide these, you can do so via Settings at Settings > General > Live TV.
Favorites displays the channels you have marked as favorite. Favorited channels are specific to the device.
Channel Collections with the word "movie" in them will show the cards in On Now with a poster aspect to show the full movie poster.