Channels 3.5 for Android & Fire TV
Auto Play, Shuffle, Kiosk Mode, and more! Channels 3.5 for Android & Fire TV is now available.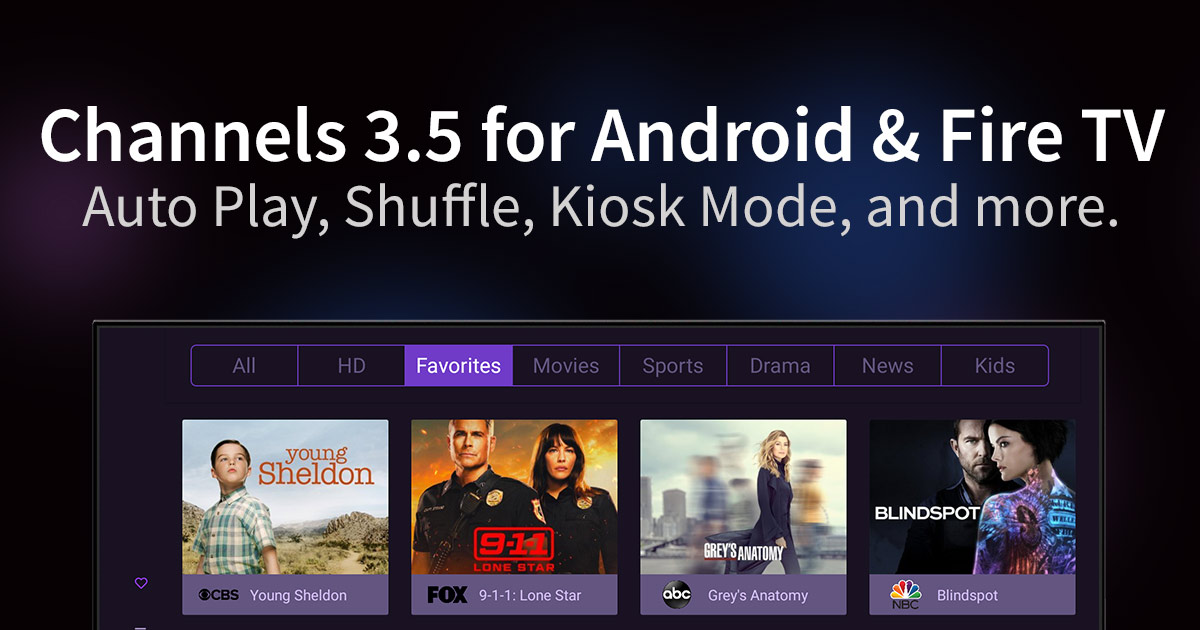 Some of our most popular features are now available for our Android & Fire TV fans. We wanted to get these out to you as soon as they were ready, but we're not done. We're working hard to deliver even more features, so stay tuned.
Auto Play
Channels will now auto play the next episode of your show once you're done watching. When your show is almost complete, it will show a card in the bottom right hand corner.
Auto Play is off by default. You can turn it on in Settings > Library > Auto Play
Some couch snoozers fear Auto Play, as it's a recipe for disaster if you fall asleep while watching your show. So, when Auto Play is off, Channels will still offer a Next Up card when your show is almost over. You can click it to skip directly to the next episode without fear of it happening automatically.
Read More → about Auto Play in our documentation.
Shuffle
Channels now offers you the option to play back episodes of a show in a random order. This is great when you want to watch a show, but don't care which episode to watch.
This is also great for kids. Combined with Auto Play, you'll keep the kids busy for a while.
Read More → about Shuffle in our documentation.
Start Up
You now have the option to set Channels to automatically start up to the same section every time. It can even start up playing one of your favorite channels.
Maybe you want Channels to go to the Guide every time you start the app. Now you can!
Read More → about the Start Up feature in our documentation.
Kiosk Mode
Kiosk Mode will hide the Settings section and replace it with an About screen. This is a great way to lock down Channels and keep people out of Settings.
Read More → about Kiosk Mode in our documentation.
Play To
Play To is finally available for Android handsets. Now you can browse from your phone and watch directly on your TV.
When you pick something to watch with your phone, you'll be asked where you want to watch it. You'll have the option to choose your TV. Pick a TV and it will start playing immediately.
Sleep Timer
A sleep timer has been added to the video player. You set the sleep timer while watching in the video player. Pull down the Info bar and choose how long until the video player is stopped.
Read More → about the Sleep Timer in our documentation.
Stats for Nerds
Using the Info bar, you can now turn on video Stats while watching something. Stats will show details like the video and audio codecs, bitrates, the streaming technique currently being used, buffer states, dropped frames, and more.
HDHomeRun Signal Notifications
Channels will now notify you if your HDHomeRun is having signal problems. You'll be able to diagnose quality issues and find out if the issues are from bad antenna reception or slow local network problems.
More!
Along with these big new features, Channels has added a bunch of quality of life improvements.
There's a new way to re-order your favorite channels. Recordings with interuptions are now marked so you can see the issues before you watch. Performance improvements have improved boot times and render times on many of its views.
---
Comments
Categories
Recent Posts