The air is crisp, the leaves are changing, and the smell of pumpkin spice is in the air. It's Fall, and that means it's time for a big new Channels DVR Server update.
We've refreshed the web admin's UI a bit, organized the settings, added built in Tailscale support, leveled up the Troubleshooting, and more
This update is packed with new features and improvements. Let's dive in.
Refreshed Web Admin
The first thing you'll notice is that we've changed up the web admin's UI a bit. Like the Spring, the Fall deserves a little cleaning as well.
A new landing page, Settings are finally organized, TV and Personal Media sources together at last, an improved first run experience, and more. Let's explore.
New Landing Page
The landing page no longer shows 1,000 settings and instead shows a snapshot of your Library, like the Library section in the Channels apps.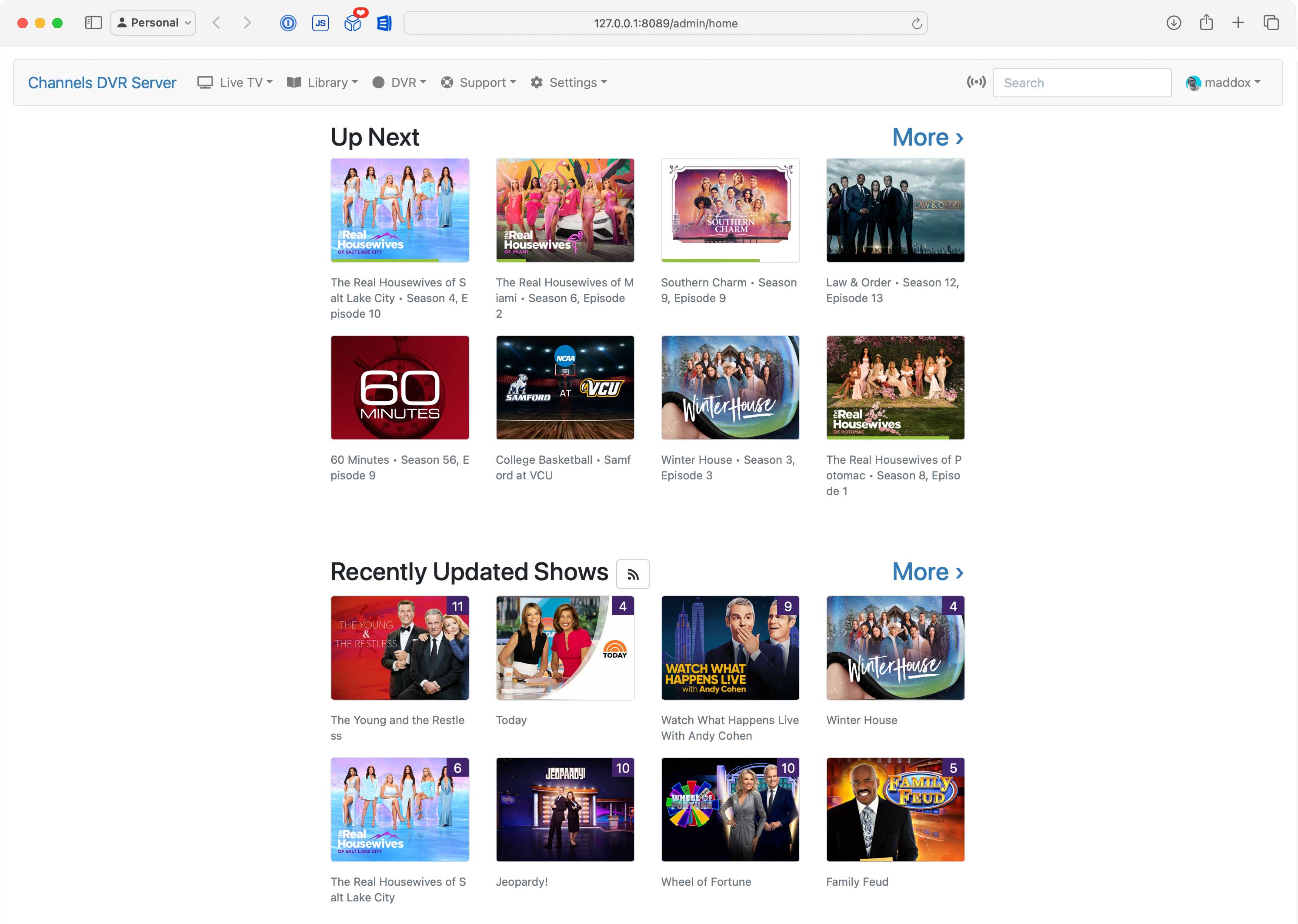 Now, when you visit the web admin, you'll get a little window into your library to hopefully get you to the content you were looking for faster.
We understand this is a big change as the landing page showed your settings for…ever. But we think this is a better experience for most people.
We've added a new setting to allow you to specify which page shows when you visit the web admin. You can set it to Settings or any of the other major sections of the web admin. We think this not only helps with dealing with the change, but is also a usability improvment overall. I have mine set to the Manage section.
You can adjust this at Settings > General > Interface > Home Page.
Settings are in the Settings Section
Settings have finally been organized into their own sections to help you find them faster.
Gone are the days of scrolling and scrolling to find the setting you're looking for. They're now all organized into their own contextual sections.
Source Management
Both Live TV sources and Personal Media sources have been grouped together and can now be found under Settings.
This should hopefully make it easier to find and manage them all.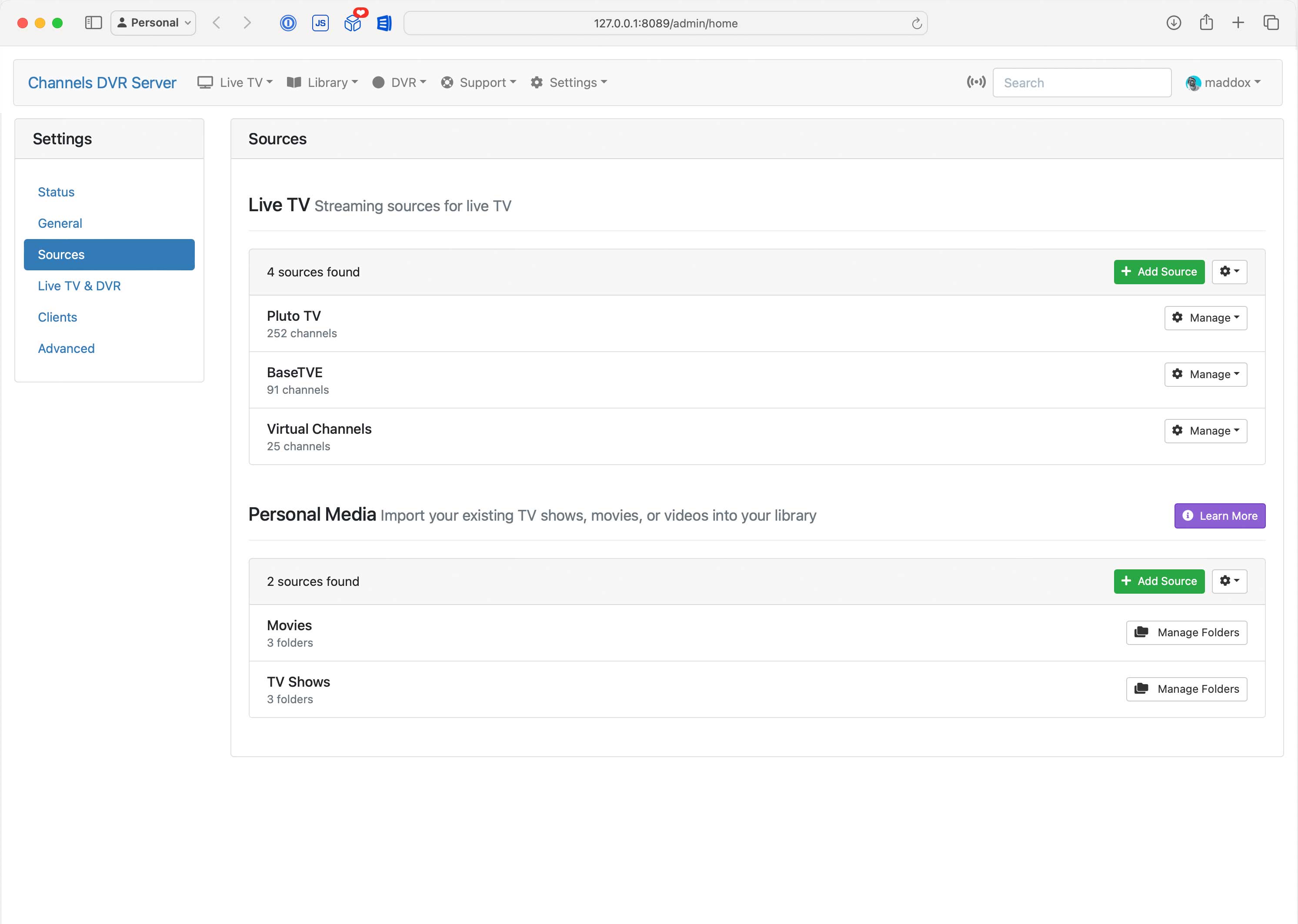 Improved Onboarding
The first run experience has greatly improved putting less emphasis on Live TV and HDHomeRun tuners. This will make it easier for those who just want to use TV Everywhere or Personal Media.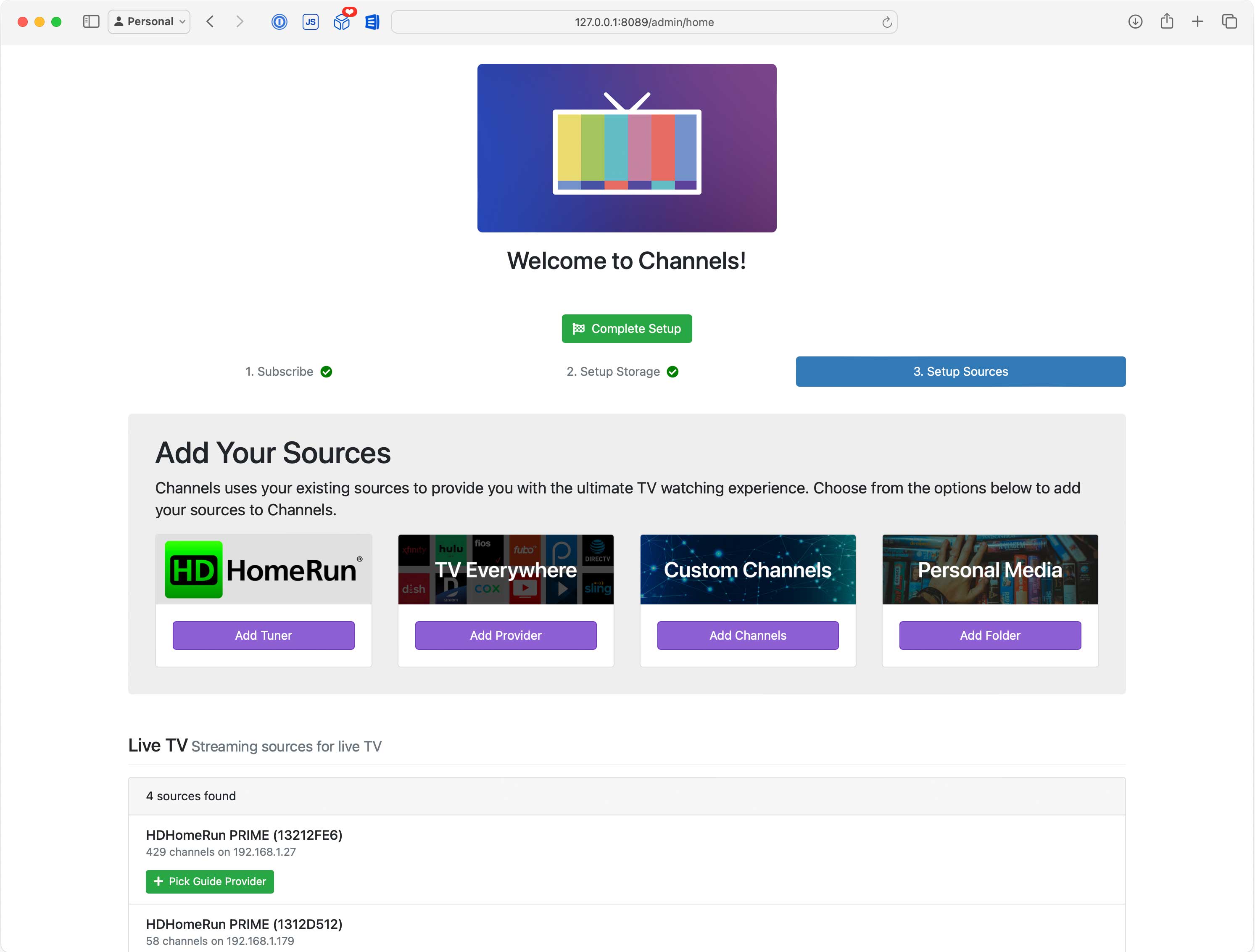 Other Improvements
An activity indicator has been added to the navigation bar to let you quickly see all current activity on your server.
Trash has been moved from the main navigation and is now found under Library.
There have been many improvements on management interfaces while on a mobile device.
Huge performance improvements on the Content Picker used while managing a Library Collection or Virtual Channel for larger libraries.
Tailscale
We've added built in support for Tailscale to automatically add your Channels DVR Server to your tailnet and make it easier to use Remote Streaming.
Some Internet providers use the CGNAT technology, like T-Mobile. This type of provider does not support port forwarding, which is required for Remote Streaming.
Using the built in Tailscale support, you can simply authenticate with your Tailscale account and your Channels DVR Server software will be added to your tailnet, making it securely available from anywhere in the world.
Once you've added your server to your tailnet, all you have to do is install and enable the Tailscale app on your device to have a direct secure connection to your server, without any port forwarding.
Learn More → about how Tailscale works in Channels DVR Server.
Troubleshooting Improvements
The Troubleshooting page has been greatly improved to help you diagnose even more issues you may run into with your server.
You can now optionally test I/O with disk and internet speed tests.
You will now be alerted if your HDHomeRun tuner has not had a lineup applied to it.
You will now be alerted if your Internet Provider is of the CGNAT type, which prevents port forwarding for Remote Streaming.
You will now be alerted if your DNS server is detected to be an ad blocker which impacts TV Everywhere functionality.
Metadata Inheritance
Recorded and imported content will now inherit certain metadata from their parent. After being recorded or imported, items will adopt the Categories and Genres set on their parent TV Show or Video Group.
While most won't find this advantageous, this provides some tools for advanced users to create less work for themselves.
If you have a large library of concerts that you use Video imports for, you can now rely on the server to automatically apply certain metadata to them without you having to edit them manually.
If you decide that a TV Show should have a different genre than it originally had, like Sports Talk, you can expect the server to automatically apply that genre to each episode. This is helpful if you want to force something into the News or Sports sections.
Other Tidbits
The Custom Channel limit has been increased from 500 channels to 750.
Movie trailers are now automatically available for imported movies.
Personal Media scanning has been improved and is more reliable.
PlayOn Cloud stability was increased to resolve an issue where you may have been routinely logged out.
Recordings are scanned after completion to apply correct audio and video format metadata.
Thanks!
That's it for now. As usual, you can read the full release notes for this release on the Release History page of our site.
If you're not fully aware of all the great features that Channels has to offer, be sure to learn about all the great ways its media library can help you watch TV the way you want to watch it.
Categories
Recent Posts